Understanding GGPoker's Unique PVI Rake Structure: A Comprehensive Guide
Full guide to the rake system used at GGPoker
Find out how the Player Value Index (PVI) can benefit players
What is GGPoker's PVI Rake?

Changes to PVI Rake Structure

Key Concepts of the PVI Rake

Blind Groups and PVI Updates

Impacts of PVI on GGPoker Players

Impact of PVI on the GGPoker Fish Buffet

GGPoker Rake Structure

Conclusion
GGPoker.com
has gained significant popularity as a thriving poker network, providing a wide range of games and catering to players of all skill levels. With an array of promotions, a diverse game library, and a lucrative
VIP
program,
GGPoker
continues to attract low-stakes players and high-rollers alike.
One notable feature that sets
GGPoker
apart is its Player Value Index (
PVI
)
rake
structure. In this article, we will delve into the intricacies of
GGPoker
's
rake
system, explaining how it works and its impact on players.
What is GGPoker's PVI Rake?
GGPoker
employs a unique approach to
rake
distribution known as the Player Value Index (
PVI
). When you play on the
GGPoker
network, the platform closely monitors playing patterns and results to assign you a
PVI
value. This value ranges from 0-2, with amateur players typically having a higher value (closer to 2) and more experienced players having a value below 1.
The exact calculations determining the
PVI
value are known only to GGPoker.
Changes to PVI Rake Structure
In July 2020,
GGPoker
implemented a minimum
PVI
multiplier of 0.1, meaning winning players can count only 10% of their rake. Before that, the minimum multiplier was 0.2. It is important to point out that the
PVI
multiplier can change without notice, depending on your playing behaviour.
Key Concepts of the PVI Rake
Several factors contribute to the
PVI
for each game, such as CHB Index, Pot size Index and Swing Index. Each factor is evaluated separately, not only for each game but also for each blind level.
Additionally:
Omaha
and Hold'em games are evaluated based on factors like CHB Index, Pot size Index and Swing Index.
All-In or Fold
games consider indexes such as All-In, Jackpot and Win/Loss.
Tournament scores are determined by factors such as
Overlay
Index,
satellite
, buy-in and skill.
PVI
scores can change at any time, adjusting dynamically according to gameplay.
Blind Groups and PVI Updates
The Hold'em and
Omaha
games on
GGPoker
are split into four Blind Groups: Featured, High, Medium, and Low.
Each blind group can have a different
PVI
, which is updated at the end of every playing session. As a result, your
PVI
can vary for each session, enhancing the dynamic nature of
GGPoker

's

rake

structure
.
Impacts of PVI on GGPoker Players
The
PVI
rake
structure at
GGPoker
multiplies the fees that count in your favour. If your
PVI
index is less than one (typically associated with winning players) it decreases the
rake
considered for calculating rakeback.
As
rake
is continuously updated based on
PVI
, your
rakeback
can also change from month to month.
Several factors can influence
PVI
, including:
Playing and betting behaviour
Number of tables played
Deposits and withdrawals made
PVI
rake
structure is designed to level the playing field, however some professional players have been less than happy with the approach and have called for a more direct structure where higher volume means increased rakeback.
Although other online poker websites operate with such systems,
GGPoker
's unique
PVI
rake
has drawn mixed reactions.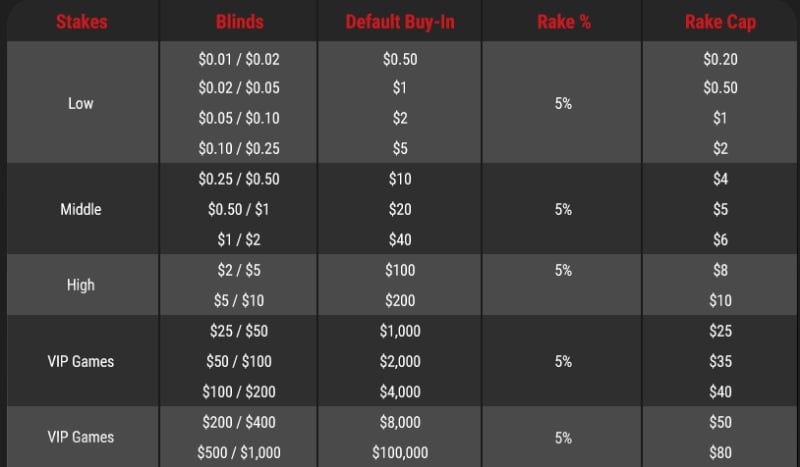 Impact of PVI on the GGPoker Fish Buffet
GGPoker
players have in recent months expressed uncertainty regarding how
PVI
affects the
Fish Buffet
rewards program.
PVI
value influences the accumulation of points in the program, meaning the process of gaining
Fish Buffet
points has been slowed down for players with lower
PVI
values. This aspect particularly impacts winning players and professionals.
GGPoker Rake Structure
It is important to understand the
rake
structure at GGPoker. Here is an overview:
Cash Games (Hold'em and

Omaha

): Players pay a commission of 5% from their share of the hand pot.
Tournaments: While there is no

rake

, a tournament fee is typically applied as a percentage of the buy-in. Specific details for each event are available in the tournament lobby.

Rake

Calculation:

Rake

is charged before the flop.
Conclusion
GGPoker
's unique
PVI
rake
structure sets it apart from other poker networks, offering a more tailored approach to cater to players of different skill levels.
The
PVI
method favours amateur and casual players, reflecting the majority of the network's global player base.
However, this approach has received mixed reviews from professional players and high rollers.
By understanding
GGPoker
's
PVI
rake
structure, players can make informed decisions about their gameplay and better understand how it influences their
rakeback
and overall poker experience.
We hope this article has been beneficial to you. If you are yet to register at
GGPoker
, we recommend using the
GGPoker

bonus code
NEWBONUS
when opening a new account to get started with $600 welcome bonus.